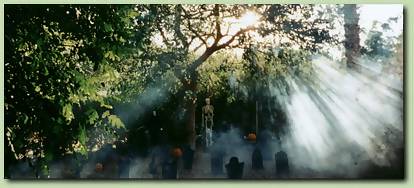 There's nothing like a layer of fog floating ominously through the night air to really add a scare to your Halloween festivities! Fog has that foreboding look to it, things could be slithering around in the fog unseen, adding the element of the unknown for your trick or treaters. Below are a few ideas for using fog machines for your Halloween Fright Fest.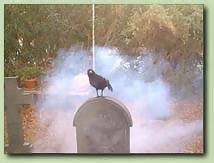 Whether you just place one in your front yard to fill the night air with fog to put a real chill into your visitors, use one in or one in the garage to turn it into a spooky "Garage of Doom", or if you've setup a graveyard scene in your front yard, adding a fog machine and chiller can enhance the effect. You can even include a fog machine at your Halloween Party to add to the festivities.
Using a fog machine to add fog to your Halloween celebration will add that extra effect to thrill and scare your trick or treaters!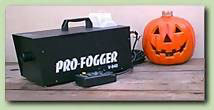 The Got Fog? web site contains more information on the subject of fog machines in general, and there use for Halloween than any other source on or off the Internet. As part of the Halloween Online Family of Websites (http://www.halloween-online.com), Got Fog? was created and is maintained by the Halloween Online staff.
We hope you find Got Fog? helpful and wish you a Happy Halloween!